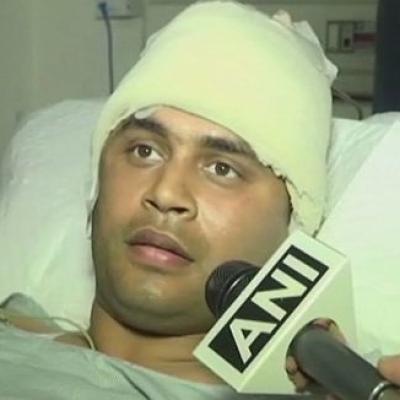 Major Abhijeet who was injured in the Sunjuwan terror attack and is recovering at the Army Hospital at Udhampur, says, "I am feeling much better now. I can interact with doctors, I was able to sit and walked twice today. I was not aware what has been happening in the last 3-4 days."
Major Gen Nadeep Naithani, Commandant of the Command Hospital where Major Abhijeet is being treated said, "His morale is very high. Soon after the surgery he asked about what happened to the terrorists. He is raring to go. His condition is good."
Mopping up operations were under way at a building in Srinagar's Karan Nagar area with security forces killing two terrorists, officials said today. The encounter between militants and security forces, which began yesterday after the ultras tried to attack a CRPF camp, resumed this morning after an overnight lull.
Security forces had launched a final assault on the terrorists hiding in an under construction building in Karan Nagar area this morning, officials said. The incident came two days after Jaish-e-Mohammad (JeM)
terrorists attacked an Army camp in Sunjuwan area of Jammu, killing seven people, including six Army soldiers. Three terrorists were also killed in retaliation by the Army.