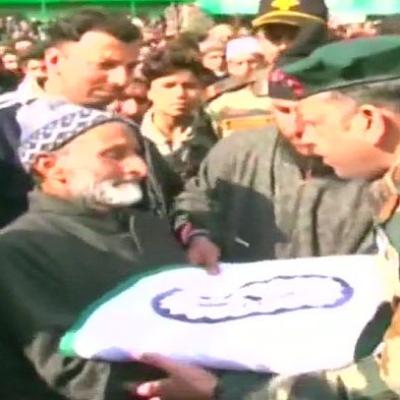 Last rites of Subedar Mohammad Ashraf Mir being conducted at his village in Madanpora Lolab in Kupwara. He lost his life in the attack on a CRPF camp in Sunjuwan in Jammu on February 10. Reports say that Kupwara, which is along the Line of Control, has united behind the grief-stricken family of the subedar coming out for the funeral en mass.
A group of heavily-armed men struck the sprawling camp of the 36 brigade of the Jammu and Kashmir Light Infantry before dawn killing six people including five soldiers.
Five army personnel, hailing from Jammu and Kashmir, and the father of one of the slain soldiers, were killed and 10 others, including two officers and six women and children, were injured in the incident.
The bodies of the three terrorists of the Jaish-e-Mohammad outfit were also recovered along with huge cache of arms and ammunition during the search operation.