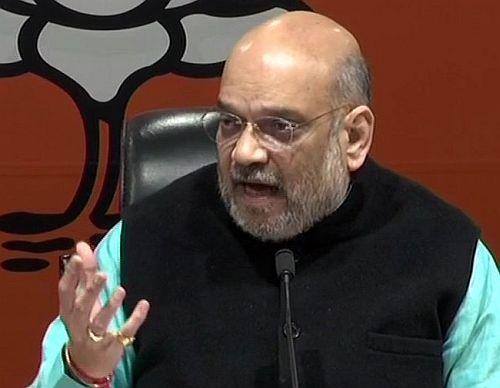 BJP President Amit Shah on the pending permission for the party's rath yatra in West Bengal. Shah held a press conference even as the BJP has decided to put on hold Shah's proposed rally saying it will wait for the final order from the Calcutta high court, which will now hear an appeal by the saffron party this afternoon.
Shah said a democratic process has been suppressed in West Bengal, with the misuse of power. "The CM is following this trend. This is non-democratic. She (Mamata Banerjee) is scared that if BJP takes out all these three rallies in the state of West Bengal and assemble in Kolkata then the foundation of a complete change will be laid down. So she attempted to stop all these yatras."
He said West Bengal leads in the number of political killings and that the entire West Bengal administration was working for the ruling TMC.
In a message to the BJP rank and file, Shah said, "We will definitely carry out all 'yatras', nobody can stop us. People of West Bengal are now ready for change. We want to advice Mamata Banerjeeji that denying permissions to BJP events in the state will only result in more resentment among the people. BJP karyakartas do not fear the suppression of Mamata Banerjee. We are committed to bringing good governance and change in Bengal," he said.