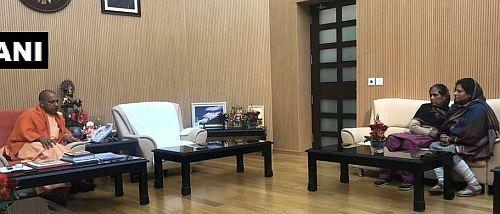 The family of Inspector Subodh Kumar Singh who died after being attacked by a mob protesting over alleged cow slaughter in Bulandshahr meets UP CM Yogi Adityanath at his residence in Lucknow. The slain cop's wife, his two sons, his sister. and other relatives, were at the meeting.
Yogi Adityanath has come under severe flak keeping the focus firmly on cow slaughter by ordering a probe on the matter but remaining silent on the cop's murder.
The murdered cop's sister has said the CM's focus only remains on cows and has remained mum on her brother's death.
Inspector Singh, who had probed the Akhlaq lynching case initially, and a 20-year-old local had died of gunshot injuries on Monday, December 3, as a rampaging mob protesting alleged cow slaughter torched a police post and clashed with the cops, according to police. The mob left more than five policemen wounded, burned down a police station and set several vehicles on fire. A local man was also shot dead in the violence.