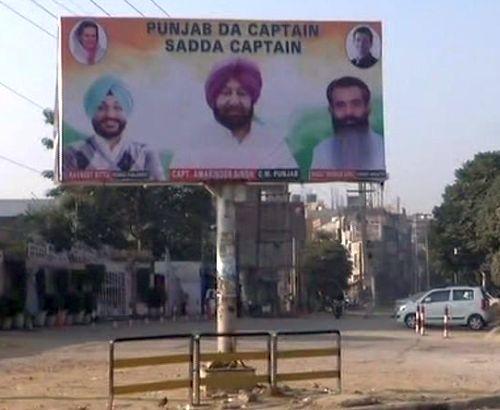 Posters of Punjab CM Captain Amarinder Singh have been put up in different parts of the state.
Interestingly, the poster reads, "Punjab da Captain, Sadda Captain."
Punjab minister Navjot Singh Sindhu kicked up a controversy a few days ago when he had said that Congress president Rahul Gandhi was his captain and Capt Amarinder Singh was an army captain
On being asked why he chose to ignore the advice of his captain to visit Pakistan, Sidhu said, Which captain you are talking about. Oh Captain Amarinder Singh. He is Army Captain. My captain is Rahul Gandhi. Captains captain is also Rahul Gandhi.
Miffed over Sidhus comments on Amarinder, a fellow cabinet minister, sought his resignation from the state cabinet. "If he does not consider Capt Amarinder as his captain then he should resign on moral grounds from the cabinet and do whatever work is assigned to him by Rahul Gandhi," Punjab cabinet minister Tript Rajinder Singh Bajwa said.