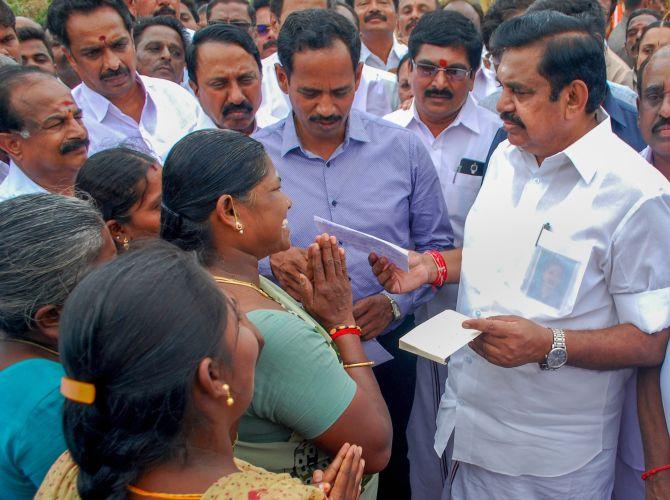 Three people have died in recent flood related incidents in Tamil Nadu, 7,167 acres of standing crops were submerged and 5,595 people were in relief centres, the state government said in Chennai today.
"Two man and a woman died, 186 villages were affected, 954 huts were fully damaged, 1,029 huts partially damaged and 7,167 acres of standing crops are submerged," Revenue Minister R B Udhaya Kumar told reporters in Chennai.
Giving statistics on the damage caused by the recent floods,he said the number of people in relief centres stood at 5,595, including 775 children in 20 camps in Erode, Thanjavur, Tiruchirappalli, Nagapattinam and Cuddalore districts.
The number of camps has come down from August 18, when there were 119 shelters housing 13,569 people. After the flood waters started receding, people had begun moving out of the camps.
Following heavy inflows from Karnataka dams, water was simultaneously released from state's dams', including Mettur.
This led to flooding in districts along the banks of the Cauvery and Bhavani rivers, including Tiruchirappalli, Erode and Namakkal.
The water in Mettur dam reached its Full Reservoir Level of 120 feet for the first time this year on July 23 due to higher realisation from Karnataka's Krishnaraja Sagar and Kabini dams, for the second time on August 11 and the third on August 22.
The water level at the Mettur dam continues to be above FRL as of today with a storage of 93,502 Thousand Million cubic feet at 120.02 feet.
However, the inflow has substantially fallen from as high as two lakh cusecs a few days ago to 22,290 cusecs today discharge is now 25,126 cusecs.
On August 19, Tamil Nadu Chief Minister K Palaniswami had inspected the flood hit areas and assured compensation for crop loss and permanent houses for the affected people.
Revenue Minister Udhaya Kumar inspected Madurai and Kanyakumari districts on August 18 and 19 respectively. -- PTI
IMAGE: Tamil Nadu Chief Minister Edappadi K Palaniswami presents essentials to people in flood-affected area of Erode. Photograph: PTI Photo