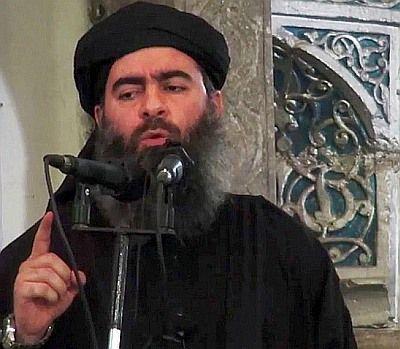 Abu Bakr al-Baghdadi, the elusive chief of the Islamic State terror group, in his first purported speech in nearly a year, has asked his followers to 'patiently persevere' despite the losses they suffered in Iraq and Syria.

The 55-minute recording, which was released by the official ISIS media wing al-Furqan yesterday, came after reports that he was probably killed in a Russian air strike in May last year on the outskirts of the Syrian city of Raqqa, the group's primary stronghold.
Baghdadi, whose real name is Ibrahim Awwad Ibrahim al-Badri, has not been seen in public since he proclaimed the creation of a 'caliphate' from the pulpit of the Great Mosque of al-Nuri in the northern Iraqi city of Mosul in July 2014.
His last audio message was released in September 2017.
In his latest message, the man on the recording admits that ISIS groups are losing and that it is a test from Allah, saying they need to stick together.
The man then says his followers are being tested with 'fear and hunger' but says 'glad tidings' will be given to those who 'patiently persevere'.
CNN, which carried the report said it cannot independently confirm the voice on the recording is that of Baghdadi.
The BBC also reported that the recording's authenticity could not be verified, but experts said the voice resembled that heard in other messages.
The man in the recording references massive losses by ISIS.
The speaker makes reference to recent events, including tensions between the United States and Turkey.
He refers to the sanctions the United States imposed on Turkey on August 1, 'just to release the pastor', referring to US pastor Andrew Brunson, who is detained in Turkey.
The man also says Russia and Iran are seeking to revolt against sanctions and avoid a similar situation to North Korea. The voice says America is using 'the gang policy' and it is a 'sign of weakness'.
The man also mentions the Syrian city of Idlib, saying Russian and Syrian military are about to storm it 'with the help of traitors', a reference to some Syrian rebels.
Commenting on the new video, US Central Command spokesperson Capt. William Urban said, "I am not going to comment on our assessment of the recording."
"We do not know where Abu Bakr al-Baghdadi is at this time, but he continues to be someone that we are interested in removing from the battlefield," CNN quoted Urban as saying.
"I do not believe that any official US government source has ever claimed that he is dead."
When asked whether that meant US officials believe the ISIS leader is alive, Urban said, "Yes."
ISIS has since released various audio messages that it claims are from Baghdadi, said to be in his late 40s. -- PTI