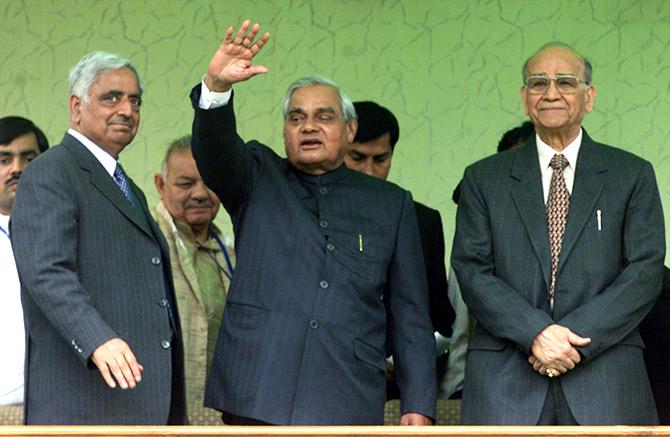 Recalling former Prime Minister Atal Bihari Vajpayee, leaders from the People's Democratic Party and the National Conference, the two prominent parties of Jammu and Kashmir, today urged the Bharatiya Janata Part-led government to follow the path shown by him for resolving the Kashmir issue and reach out to the people in the valley and start dialogue with Pakistan.
National Conference leader Farooq Abdullah and People's Democratic Party president Mehbooba Mufti paid rich tributes to Vajpayee and appreciated his approach towards Kashmir, at a prayer meeting for the departed leader organised by the BJP.
Abdullah described Vajpayee as a man with a "big heart" and said he did not differentiate between the people. He always tried to end hatred among the countrymen and with neighbours as well by taking various initiatives.
"Please follow his approach and develop a nation which is full of love and spreads love. And establish healthy and friendly relations with neighbours," he said.
Vajpayee was perhaps the first prime minister who trusted the people of Kashmir Valley and won their trust also, PDP leader Mehbooba said.
"Vajpayeeji was not less than a messiah for the people of Jammu and Kashmir. He showed that the all problems of the valley can be resolved by following the humanitarian approach and said that you can change your friends but not neighbours," she asserted.
Mehbooba urged the current dispensation that the best tribute for Vajpayee could be by following the same humanitarian approach towards Kashmir and initiating talks with Pakistan.
Both Abdullah and Mehbooba are former chief ministers of Jammu and Kashmir and were also ally of the Bharatiya Janata Party on different occasions. -- PTI