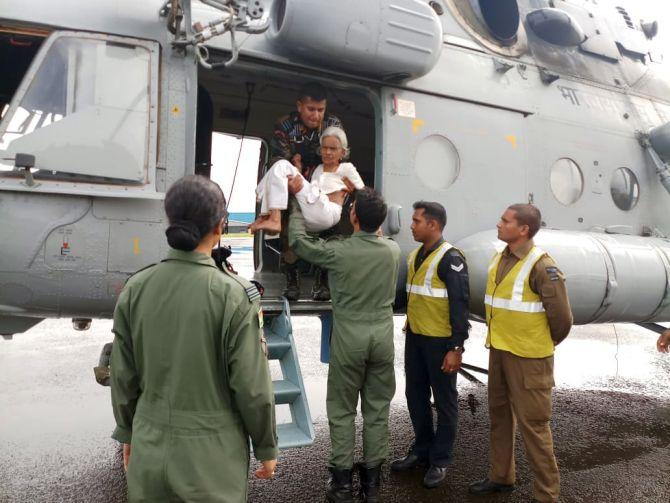 The Centre has said the Cochin Naval Base will be thrown open for commercial flight operations from the morning of August 20, bringing a huge relief to people awaiting resumption of air service from Kochi.
The main Kochi international airport, the seventh busiest in the country, has been rendered non-functional from August 14 due to flooding and torrential rains, and would remain closed till August 26.
As a result, both domestic and international flights to Kochi are being diverted to other destinations such as Trivendrum and Calicut.
"In view of disruption of flights from Cochin airport due to floods, a joint team sent by @MoCA_GoI has approved starting of scheduled commercial flights using ATRs by Alliance Air, a subsidiary of Air India, between Bangalore and Cochin Naval Air base," Civil Aviation Minister Suresh Prabhu has tweeted.
In another tweet, he said, "Flight operations between Bangalore and Cochin Naval airbase will be starting from 20th August morning." He said more destinations such as Madurai were also in the pipeline and that other airlines were likely to join in.
The Indian Commercial Pilots' Association has, in the meanwhile, written a letter to Prime Minister Narendra Modi, expressing their willingness to fly the planes without payment, on voluntary basis, to the cause of these operations.
"We consider this a unique privilege that we can use to assist in such operations," the association said in a letter to the PM.
On the other hand, private carriers such as IndiGo and GoAir said they would be operating additional flights to and from Kozhikode, Coimbatore and Thiruvananthapuram till August 25 to different parts of the country.
"IndiGo will ensure to provide cancellation and rescheduling waiver to passengers booked to travel from August 16, 2018, to August 26, 2018," the airline said in a statement.
GoAir said it will operate special flights to and from Trivandrum airport to Mumbai from August 20 and that all passengers booked to and from Kochi will be accommodated on these flights. It said that impacted passengers to and from Kochi are "not being charged additional fees or cancellation charges keeping in mind the current situation".
The civil aviation minister, during the day, also appealed to the airline to cap the maximum fare at around Rs 10,000 on longer routes and Rs 8,000 on shorter routes to/from Kerala to nearby airports.
Meanwhile, Jet Airways in a statement said that it will be operating additional domestic flights to Thiruvananthapuram from Mumbai, Bangalore, Dubai and Dammam from August 19.
"For guests with confirmed tickets to and out of Cochin for travel till 26th August, 2018, the Jet Airways has waived off date/ flight change from the original travel date or choosing an alternate destination which is close to Cochin airport, refund, no-show penalties and fare difference if any, due to the closure of the Cochin airport," it added.