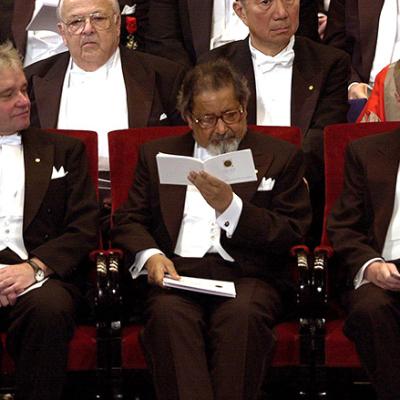 "Vidhiadhar Surajparsad Naipaul was a trim, precise of speech, gentleman dressed in a jacket I came to know well, with a manner so charming and genteel that it betrayed the acerbic reputation that preceded him wherever he went.
"He outlined what he planned to do in his third book on India -- from what I gathered, a less critical look at the country of his ancestors than
An Area of Darkness
and
A Wounded Civilisation
-- and the kind of people he hoped to meet.
"I may have mentioned Ratan Tata and Aditya Birla, both names he rejected instantly with a shake of the head, his face momentarily erupting into a rash of irritation."
Nikhil Lakshman
remembers the times he spent with the legendary writer, VS Naipaul, who passed into the ages six days before his 86th birthday.
If there's one thing you want to read today, let it be
this.