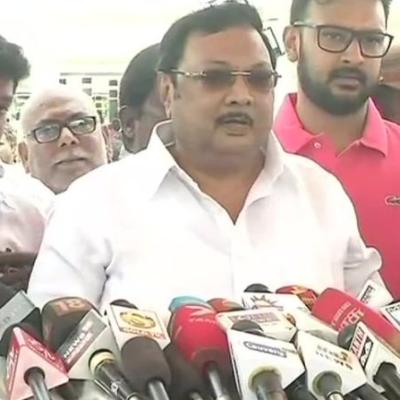 The brotherhood and bonhomie displayed by MK Alagiri at DMK chief MK Karunanidhi's funeral on August 8, is clearly behind him.
Less than a week later after the patriarch's death, Alagiri, the elder son of Karunanidhi, has challenged his brother and DMK working president Stalin for the party leadership.
Speaking to reporters at his fathers memorial at Marina Beach in Chennai, Alagiri said, "My father's true relatives are all are on my side. All the supporters in Tamil Nadu are on my side and are encouraging me only. Only time will give the answers."
Alagiri, who was sacked from the party by Karunanidhi in 2014, in favour of Stalin as his heir apparent, had visited the memorial at Marina Beach this morning.
Speaking to reporters today, Alagiri said, "I'm here to pay my respects to my father. I won't speak on the DMK executive meet since I am not a member of the DMK. But the true supporters of Kalaignar are with me. Only time will give a befitting reply. I am pained at whats happening."
Alagiri is believed to still hold sway in Madurai. He won the 2009 LS elections from the city and was Chemical and Fertilizer Minister in Manmohan Singh government.