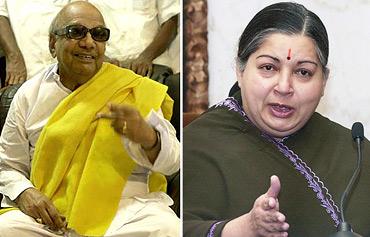 The Dravida Munnetra Kazhagam, it seems, is determined to ensure that its veteran leader, Kalaignar M Karunanidhi, who passed into the ages on August 7, is bestowed the Bharat Ratna, the country's highest civilian honour.
For the last three days, DMK's MPs and other leaders have been virtually prostrating before the Bharatiya Janata Party leadership, to ensure that this happens at the soonest.
Karunanidhi's daughter Kanimozhi, a Rajya Sabha member, is determined to get this done at the earliest.
Naturally, the concluding days of the monsoon session of Parliament saw a flurry of activity over this.
All this has alarmed MPs from the rival All India Anna DMK, who believe that their supreme leader Jayalalithaa, who passed away in December 2016, should be given the honour first, ahead of her longstanding political rival.
They also fear that with election season fast approaching, the BJP leadership may announce the Bharat Ratna for Karunanidhi in an effort to woo the Dravidian major.
Senior AIADMK leader Dr V Maitreyan in fact took to Facebook to warn the BJP leadership of any such move.
'After the sad demise of Puratchi Thalaivi Amma on 5th December 2016, the general council of AIADMK met on 29th December 2016 and passed a unanimous resolution urging the Union Government to accord Bharat Ratna on Amma.'
'The State cabinet also passed a resolution urging the centre to confer the highest civilian award on her.'
'The AIADMK MPs also raised the issue of conferring Bharat Ratna award on Amma in both Rajyasabha and Loksabha in Jan - Feb 2017.'
'More than 600 days have passed since the sad demise of Puratchi Thalaivi Amma. The AIADMK cadres, Amma loyalists and the people of Tamilnadu are eagerly awaiting the response of the NDA Govt in this regard on conferring Bharat Ratna on their beloved people's Chief Minister Puratchi Thalaivi Amma.'
The binary politics of Tamil Nadu has thus spilt over into New Delhi, and it will be interesting to watch how Prime Minister Narendra Modi handles the conflicting claims.