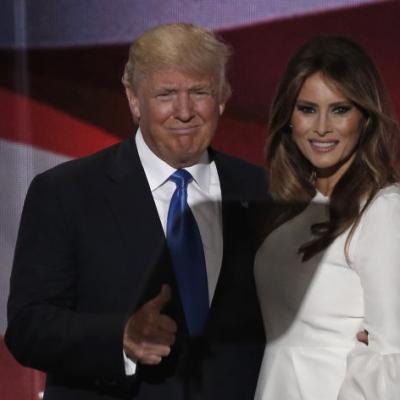 President Donald Trump's Slovenian in-laws became United States citizens through "chain migration", a programme he has repeatedly denounced, in which adult American citizens can obtain citizenship for their relatives.
First Lady Melania Trump's parents, Viktor and Amalija Knavs, became US citizens at a private ceremony here. She had sponsored her parents for their green cards, their lawyer Michael Wildes said in a report in The New York Times.
"Once they had the green card, they then applied for citizenship when they were eligible," he said.
When asked if the Knavses had obtained citizenship through "chain migration", Wildes, said, "I suppose." "It's a dirty a dirtier word," he said, but added that "it stands for a bedrock of our immigration process when it comes to family reunification."
Trump has vehemently opposed the "chain migration" system, more commonly known as family-based immigration, that lets adult American citizens obtain citizenship for their relatives.
In November, he had tweeted, "CHAIN MIGRATION must end now! Some people come in, and they bring their whole family with them, who can be truly evil. NOT ACCEPTABLE!
Trump also often speaks out against the family-based immigration system at his rallies, saying it a pathway for terrorists to enter the country, the NYT report added.
According to the report, the first lady's communications director Stephanie Grisham said since the Knavses are not part of the administration, she is not commenting on them.
Standing alongside the Knavses, their lawyer said the couple has "travailed a wonderful journey, like most have, millions have in getting citizenship and waiting the requisite period of time."
He said their application, the process, the interview was no different than anybody's else's.
"These doors that are in America remain hinged open to beautiful people as they have today. They would appreciate their privacy and we just thank everybody for their attention to this very important dialogue that we are having on immigration. This is an example of it going right," he said.
Viktor, 74, is two years older than President Trump.
Amalija is 73.
The first lady, born Melanija, changed her name to Melania Knauss when she started modelling.
According to news reports, Melania came to the US in 2001 on a so-called Einstein visa for "individuals of extraordinary ability" as a model.
She became a United States citizen in 2006.
The Knavses came and went from the ceremony at a Manhattan federal building flanked by Homeland Security police.
Melania Trump was not present for the ceremony.
She was in Bedminster, New Jersey, at the Trump National Golf Club, where Trump is currently staying. -- PTI