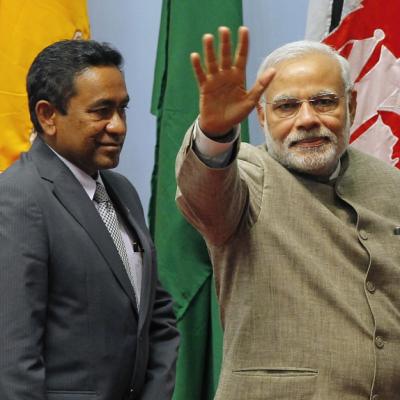 The Maldives wants India to withdraw military helicopters and personnel posted there following the expiry of an agreement in June, its envoy said, the latest snub to Delhi by President Abdulla Yameen's China-backed government.
India and China are going head to head in the Maldives, the Indian Ocean island chain where Beijing is building roads, bridges and a bigger airport, upstaging India which has been the country's prime provider of military and civilian aid for decades.
India has opposed Yameen's crackdown on political rivals and the imposition of an emergency this year and some of the president's rivals have called on Delhi for military intervention, creating worries in the Maldivian government.
The tensions are impacting aid programmes such as security assistance that Delhi has given to smaller countries in the region to help them protect exclusive economic zones, carry out surveys and combat piracy.
The Maldives' ambassador in India, Ahmed Mohamed, said that two military helicopters provided by India were mainly used for medical evacuations but were no longer required as the islands had built up enough resources of its own.
"They were very useful in the past but with the development of adequate infrastructure, facilities and resources we are now in a position to handle medical evacuations on our own," he said.