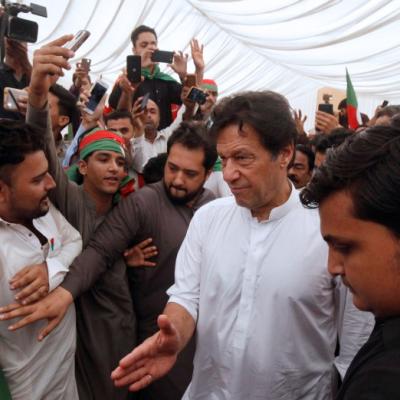 Pakistan's Prime Minister-in-waiting Imran Khan today tendered an unconditional written apology to the election commission for violating the secrecy of the ballot, removing the last possible hurdle in his swearing-in next week.
The Election Commission of Pakistan, in a 3-1 vote, accepted the apology submitted by the Pakistan Tehreek-e-Insaf Chairperson.
It also ordered the issuance of notification for his victory in Islamabad's NA-53 constituency where he stamped the ballot paper publicly instead of going behind the voting screen.
Chief Election Commissioner retired Justice Sardar Muhammad Raza disagreed with the ECP's Sindh, Balochistan and Khyber Pakhtunkhwa members, who were in favour of accepting the apology.
Khan's counsel Babar Awan submitted the unconditional written apology before the commission on behalf of the PTI chief during the hearing held by a four-member bench headed by Raza as the ECP had sought a signed apology from Khan for violating the electoral code of conduct.
In his written reply, Khan mentioned that he values the ECP as well as the electoral rules. He said that on July 25, he entered an overcrowded polling station, without any companions, to cast his vote, Dawn news reported.
"I was told to put my ballot on a table and stamp it when I asked the staffers present there about where to mark the ballot," the report quoted Khan as telling the ECP.
-- PTI