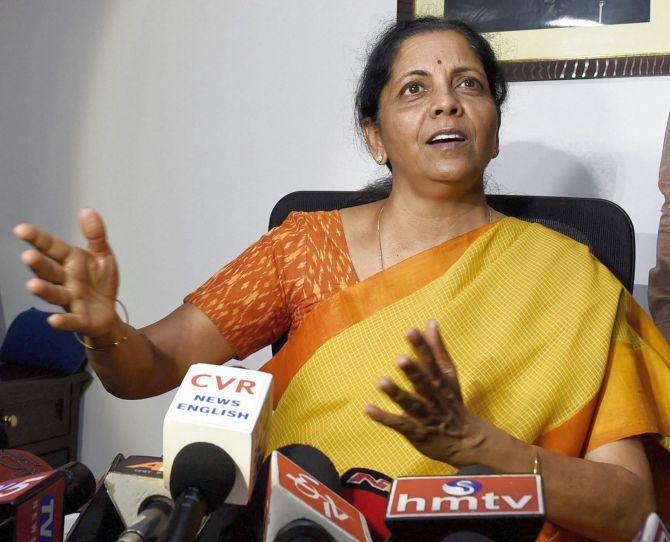 The Rajya Sabha deputy chairman's election on August 9 could be closer than what the BJP leadership anticipates -- for the simple reason that the AIADMK, which packs 13 MPs in the Upper House, may vote against the ruling party's candidate.
The AIADMK, which has been favourably inclined towards the BJP and Prime Minister Narendra Modi, had a change of heart after what it calls the "ill-treatment" of Tamil Nadu Deputy Chief Minister O Panneerselvam by Defence Minister Nirmala Sitharaman recently.
On July 24, OPS, along with AIADMK leader Dr V Maitreyan, went to meet Sitharaman at her South Block office. They waited in vain, as Sitharaman did not meet OPS.
On landing at Chennai airport that evening, OPS quoted CN Annadurai to the waiting media-men, "Edhaiyum thaangum idhayam vendum (you need a brave heart to bear everything)."
But clearly, the insult rankles for the AIADMK, which had voted for the NDA government in the no-confidence motion only days ago.
"Tamil pride was affected," says Dr Maitreyan, adding that the AIADMK's 13 votes will go to the Congress nominee unless BJP president Amit Shah speaks to OPS and apologises for the snub.
So, as things stand, unless a whip is issued, all the 13 MPs will vote against the ruling party nominee.
As proof of the potential outcome, AIADMK sources pointed to the election of TDP's C M Ramesh to the prestigious Public Accounts Committee on Monday, which was enabled by the Opposition voting for him.
Be sure, says Dr Maitreyan, the AIADMK will make it a point to defeat the BJP nominee.