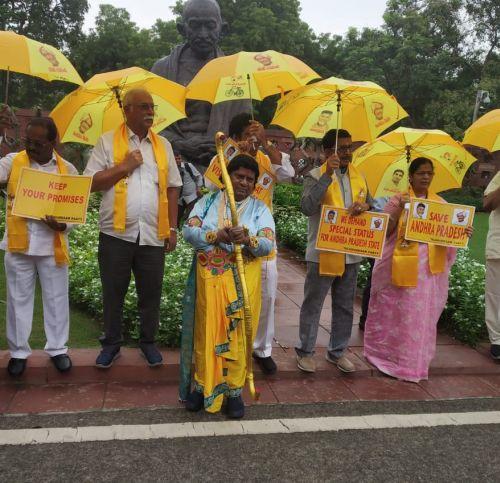 The Telugu Desam Party is the arch rival of the BJP. TDP MP C Ramesh, who is the key coordinator between TDP leader and Andhra Pradesh CM N Chandrababu Naidu and 23 TDP MPs in New Delhi gets a call from the CM's office every day.
During the parliament session, there is some drama by TDP MPs either inside or outside parliament, which is being Scripted from Hyderabad.
The TDP's arch rivals are Jaganmohan Reddy's YSR Congress and the Telangana Rashtriya Samiti. These two parties have been at loggerheads with the TDP.
In the Central Hall of Parliament, C Ramesh is often seen hugging Congress MPs and their apparent bonhomie, naysayers say is only to seek numerical support. At times, Ramesh is also seen strategising with Ghulam Nabi Azad inside the Rajya Sabha. His rapport with the Congress is a thorn on the side for the BJP.
During the BJP-TDP alliance days in 2015-2016 Ramesh could not curry favours from the finance ministry on income tax or customs exemptions. But, the businessman that he is, got at least 10 BJP states to help him get national highway projects. BJP MPs even recollect Ramesh's meetings with BJP CMs. But now Ramesh ignores the party.
His new friends now are the TMC, SP and BSP MPs. Few TDP MPs even heckle the BJP government during their speeches, which is music to the Congress Party's ears.
So, will the Congress ally with the TDP in Andhra Pradesh to rebuild their base. Rahul Gandhi is happy with the TDP for bringing about the no confidence motion against the Narendra Modi government.
But as they say, there are no permanent friends or enemies in politics.
Image: TDP MP Naramalli Sivaprasad dresses up as Lord Ram outside Parliament to protest over the demand of special status for Andhra Pradesh. He has earlier dressed up as a magician, a woman, a washerman and even a school boy among others.