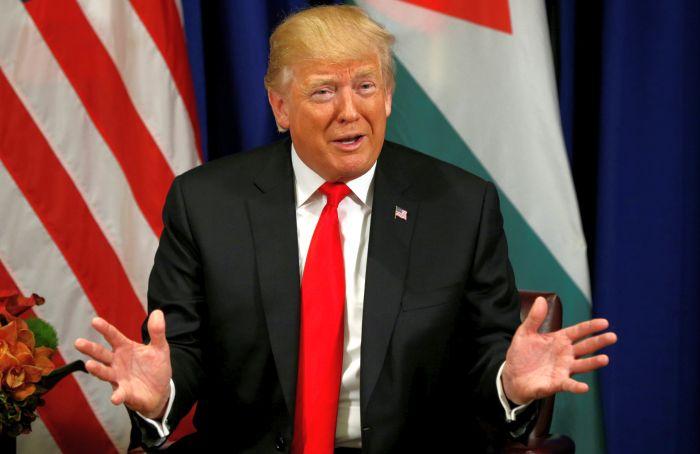 United States President Donald Trump today reimposed sanctions on Iran, which were lifted as part of the 2015 Iranian nuclear deal, but said he remains open to forging a new 'more comprehensive' deal with the Islamic Republic.
In May, Trump had announced to withdraw from the Iranian nuclear deal. The reimposition of sanctions on Iran will have major impact on countries like India, with which it has traditional and historic trade relationship.
"Today, the US is taking action to reimpose nuclear-related sanctions with respect to Iran that were lifted in connection with the Joint Comprehensive Plan of Action of July 14, 2015 (the JCPOA)," Trump said.
These actions include reimposing sanctions on Iran's automotive sector and on its trade in gold and precious metals, as well as sanctions related to the Iranian rial. These measures will take effect on August 7, 2018.
"All remaining US nuclear-related sanctions will resume effective November 5, 2018. These include sanctions targeting Iran's energy sector, including petroleum-related transactions, as well as transactions by foreign financial institutions with the Central Bank of Iran," said the US President.
At the same time, Trump said he remains open to reaching a 'more comprehensive deal' that addresses the full range of the Iranian regime's malign activities, including its ballistic missile programme and its support for terrorism.
"The US welcomes the partnership of like-minded nations in these efforts," he added.
Reiterating that the US is fully committed to enforcing all of its sanctions, and will work closely with nations conducting business with Iran to ensure complete compliance, Trump warned that individuals or entities that fail to wind down activities with Iran risk severe consequences.
Trump said that many international firms have already announced their intent to leave the Iranian market, and several countries have indicated that they will reduce or end imports of Iranian crude oil.
"We urge all nations to take such steps to make clear that the Iranian regime faces a choice: either change its threatening, destabilising behavior and reintegrate with the global economy, or continue down a path of economic isolation," he said.
Beginning tomorrow, sanctions will be reimposed on purchase or acquisition of US bank notes by Iran; transactions related to the Iranian rial, activities relating to Iran's issuance of sovereign debt and Iran's automotive sector.
Sanctions will also be reimposed on Iran's trade in gold and other precious metals and graphite, aluminum, steel, coal, and software used in industrial processes, the White House said today.
However, the remaining sanctions will be reimposed on November 5, including sanctions on Iran's port operators and energy, shipping, and shipbuilding sectors; Iran's petroleum-related transactions and transactions by foreign financial institutions with the Central Bank of Iran.
The Trump administration will also relist hundreds of individuals, entities, vessels, and aircraft that were previously included on sanctions lists, the White House said.
By doing so, the administration is implementing the decision made by President Trump in May when he ended US participation in the JCPOA.
Describing the JCPOA as 'a horrible, one-sided deal', Trump said that it failed to achieve the fundamental objective of blocking all paths to an Iranian nuclear bomb, and it 'threw a lifeline of cash to a murderous dictatorship that has continued to spread bloodshed, violence, and chaos'.
"Since the deal was reached, Iran's aggression has only increased. The regime has used the windfall of newly accessible funds it received under the JCPOA to build nuclear-capable missiles, fund terrorism, and fuel conflict across the Middle East and beyond," he said. -- PTI