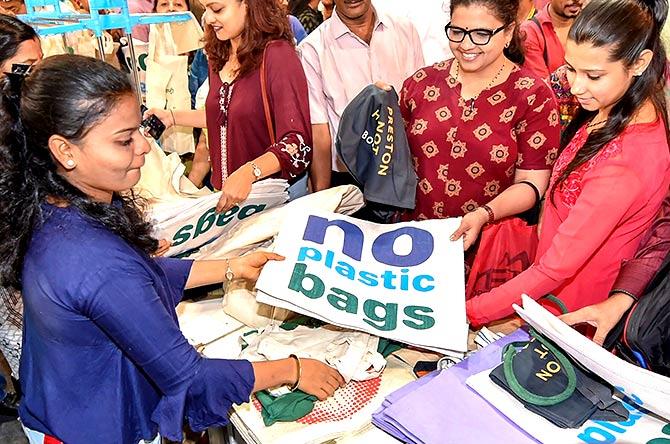 The Maharashtra government today told the Bombay High Court that it has authorised the railways, metro and airport authorities to initiate action, within their jurisdictional areas, against those violating the state's plastic ban.
On March 23 this year, the government had issued a notification imposing a ban on the manufacture, use, sale, distribution and storage of all plastic materials like one-time use bags, spoons, plates, PET and PETE bottles and thermocol items. The notification was challenged in the high court by plastic, PET bottle and thermocol manufacturers and retailers' associations on the ground that the ban was arbitrary, bad in law and violated their fundamental right to livelihood.
In April, a division bench of Justices A S Oka and Riyaz Chagla refused to stay the notification after observing that the court cannot ignore the adverse effects of plastic waste on the environment. The government today filed an additional affidavit in the petitions.
"Any officer nominated by the Railways, Metro, Maharashtra Maritime Board and Airport authorities is also authorised to initiate action under the notification," the affidavit, filed by Under Secretary of state environment department Sanjay Sandhanshiv, said.
It said the Empowerment Committee constituted under the chairmanship of the state environment minister had heard the representations made by the petitioners and submitted its recommendations to the government.
The government, on the basis of these recommendations, had, on June 30, issued amendments to the notification. The amended notification states that the use, sale, storage and manufacture of PET/PETE bottles having liquid holding capacity of less than 200 ml has been banned.
"It shall be the sole responsibility of the manufacturer of PET bottles to ensure that these bottles are collected from retailers and recycled. The manufacturers shall diligently implement their extended producer's responsibility plan," the affidavit said.
The plan shall also include coordination and collaboration with scrap traders and retailers for collection of plastic waste, its recycling and the final disposal, it said. -- PTI