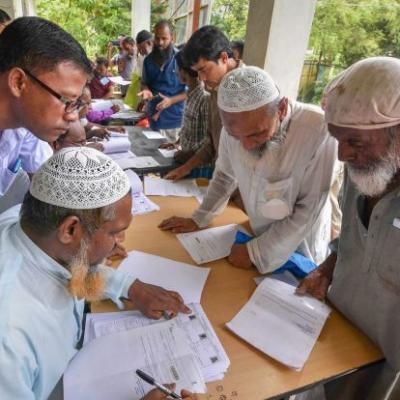 The name of Assam's lone woman chief minister Syeda Anowara Taimur, who is residing in Australia, is missing from the National Register of Citizens and she plans to return home to initiate the process of enlisting herself and her family in the register of citizens of the state.
''It is sad that my name is not there in the list. I will return to Assam in the last week of August and then initiate the process to get mine and my family's name enlisted in the National Register of Citizens (NRC)," the octogenarian told a television channel.
Taimur had headed the state government from December, 1980 to June, 1981.
She has been ailing for some years and is living with her son in Australia.
The former Assam chief minister said she had 'requested a relative to submit the application for the family's inclusion in the NRC, but maybe it could not be done due to some reasons'.
The NRC authorities in Guwahati, however, said there was no legacy data of the former chief minister available with them and as such it was not possible for them to ascertain whether she and her family members had applied for inclusion of their names in the draft NRC.
Taimur had served as a Rajya Sabha member in 1988. She was elected as a member of the state legislative assembly in 1972, 1978, 1983 and 1991.
She left the Congress to join the All India United Democratic Front in 2011.
AIUDF general secretary Aminul Islam today told PTI that they, too, had heard from media reports about her name not being in the list.
''We have come to know from media reports that our party member and Assam's first woman chief minister's name does not figure in the list. There are others like former president Fakhruddin Ali's nephew whose names do not figure in the NRC. This is a serious matter," he said.
"The NRC is full of errors and we will soon meet NRC state coordinator Prateek Hajela and then chalk out our future course of action," he said.
Meanwhile, Taimur's Guwahati residence near the Rajdhani Masjid in Dispur is lying vacant.
The complete draft of the NRC released on July 30 included the names of 2.89 crore people, out of the 3.29 applicants, with the names of over 40 lakh people excluded. -- PTI