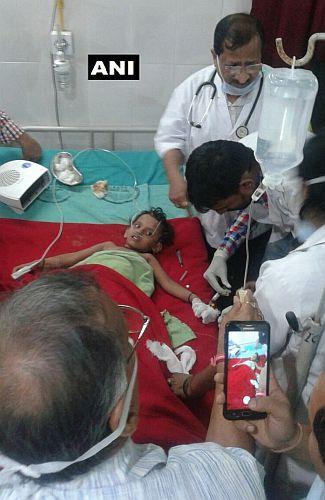 A three-year-old girl, who was rescued from a 165-foot deep borewell shaft following a 30-hour-long operation in Munger district last night, was stable, doctors treating her said today.
The girl, Sanno, was dehydrated but had responded well to intravenous therapy, district Civil Surgeon Yogendra Prasad Bhagat said.
She underwent a CT scan after swellings were noticed on her neck and head, he added.
"As of now, we find that her condition is stable. Prima facie the swelling does not seem to have been caused by any internal injury," Bhagat said.
The civil surgeon said Sanno would probably recuperate in Munger, though her CT scan report was awaited.
"On the basis of the report, a decision will be taken on whether she needs to be referred to Patna for better treatment," he said.
The teary-eyed parents and maternal grandparents of the girl thanked the locals for their moral support and the administration for its relentless efforts in rescuing her.
Sanno had come to her maternal grandparents' place at the Murgiyachak locality of Munger town.
She fell into the shaft while playing and got stuck around 45 feet below the surface at about 4 pm on Tuesday. She was taken out, smeared with mud, at 9.45 pm yesterday.
Meanwhile, Bihar Deputy Chief Minister Sushil Kumar Modi said those who left borewell shafts open would be punished.
He added that the unfortunate incident took place because of the reckless manner in which people got borewell shafts dug and left those open.
"In future, those responsible for such lapses will be severely punished," Modi said in a statement. He also congratulated the rescue team. -- PTI