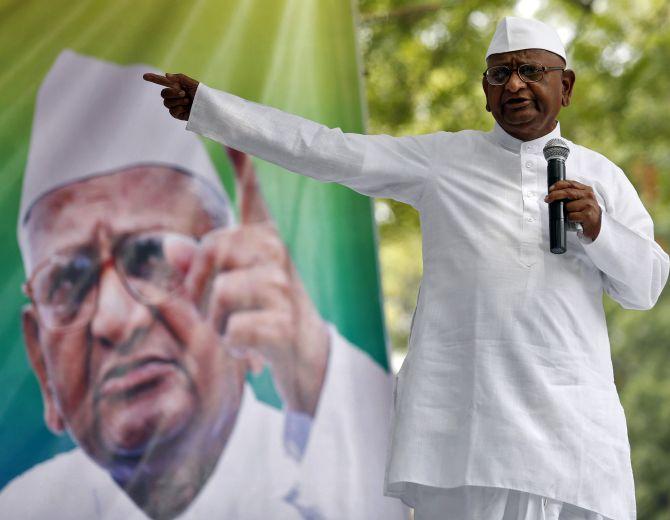 Social activist Anna Hazare has conveyed to the Centre that he will launch a hunger strike on October 2 against "non-fulfilment" of promises on welfare of farmers and appointment of Lokpal and Lokayuktas.
In a letter addressed to minister of state in the PMO Jitendra Singh on July 31, the anti-corruption crusader said he would start his protest at Ralegan Siddhi village in Maharashtra's Ahmednagar district.
Hazare said he had written to the Centre at least four times in the past demanding implementation of the written assurances made by the government on March 29 this year, when he called off his protest at Ram Leela Maidan in Delhi.
"I will go on a hunger strike from October 2, the birth anniversary of Mahatma Gandhi, at my native Ralegan Siddhi village," he said.
Hazare criticised the NDA government, saying it had earlier assured to appoint the Lokpal and implement the Lokpal Bill, passed by Parliament and signed by the then President in January 2014.
Hazare demanded the Central Agriculture Price Commission, which is currently under the ministry of agriculture, need to function independently in interest of farmers.
"At present, various State Agriculture Price Commissions send the support prices for different crops to the CPAC. The CPAC reduces the support prices recommended by the SAPCs by 50 per cent because it is under the Agriculture ministry," he said.
Hazare said the farmers do not get adequate price for their crops due to the CAPC halving the recommended support prices.
"The CPAC should consist of agriculture specialists and experienced agriculturists who are not associated with the government," he demanded.
Recalling his Jantar Mantar stir in March, Hazare said he was told that a high-level committee would be set up to implement the assurances.
However, the response received (from the Centre) last month didn't mention implementation of them, he said.
Hazare said his other demands included: fixing the milk price on per litre cost to the farmers; a monthly pension of Rs 5,000 to those farmers who are above 60 years and still dependent on agriculture for livelihood.
Questioning the "delay" in appointment of a Lokpal, Hazare said the government seemed to be lacking the will to act.
"Had the current government implemented the Lokpal and Lokayuktas Act after coming to power in 2014, the level of corruption in the country could have been checked," he stated.
The Supreme Court had last week expressed dissatisfaction over the Centre's response on appointment of search committee members for a Lokpal.
The Centre had earlier told the apex court that the Lokpal selection committee, headed by the prime minister, was scheduled to meet to set up a search panel for recommending a panel of names for the appointment of the anti-graft ombudsman and its members. -- PTI