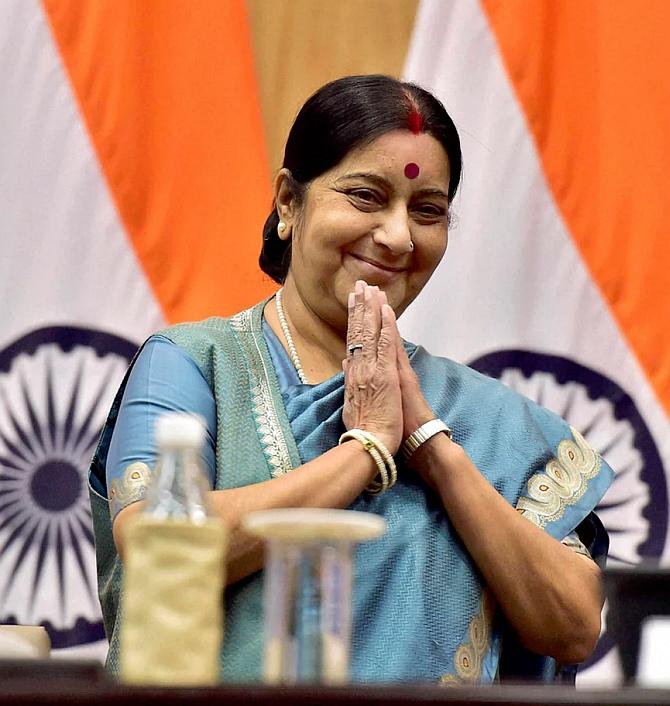 External Affairs Minister Sushma Swaraj today assured help to a 14-year-old girl facing visa issues for her travel to London after being selected to represent India at a global conference.
A woman named Arpita Tiwari, in a tweet, said the girl, Isha, studying in a government school in an underprivileged community in Delhi's Sangam Vihar, has been selected to represent India for the conference in the British capital city.
She has her tickets booked for May 3 but is unable to travel as her visa clearance is delayed, Tiwari said.
"We will definitely help. I have asked my office to get in touch with you," Swaraj said.
The Union minister also assured assistance to a woman, who said her brother had gone to Kuwait for some office work and she later lost contact with him.
The person of contact has told her that her brother met with an accident and has been unconscious in a hospital there.
The woman sought Swaraj's help to locate her brother and shift him back to India.
"I have asked Indian ambassador in Kuwait @indembkwt to provide all assistance," Swaraj assured the woman.
She also assured help to a group of Indian students of the University of Illinois in the US who lost their passports in a fire accident.
The minister also offered help to a woman whose passport was stolen while on a trip to Mexico and wanted to get back home as soon as possible as her children were alone.
-- PTI