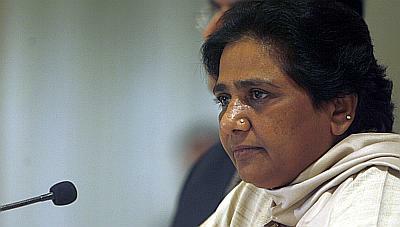 Bahujan Samaj Party supremo Mayawati's maiden rally in poll-bound Karnataka failed to attract expected crowds but those who attended the rally said Mayawati is like a 'God' to them.
Mayawati along with Janata Dal (Secular) Supremo Deve Gowda and his son H.D. Kumaraswamy addressed a rally in Mysuru yesterday. But by the time rally started, the thin crowd was tired of waiting as the rally got delayed by almost three hours.
Former prime minister Gowda barely spoke for three-four minutes while Mayawati read out her speech. Both the leaders appealed to the Dalit voters to vote for the JD (S) under the leadership of Kumaraswamy.
"Congress and BJP never wanted the regulation of Mandal Commission's report which would provide Other Backward Classes the benefits of reservation," Mayawati said. She also trained guns at Prime Minister Narendra Modi over corruption.
"Widespread corruption by people like Nirav Modi and Mehul Choksi have punctured the air out of Modi Ji's slogan 'Na khaaonga na khaane doonga'," the BSP chief said.
Kumaraswamy, who spoke for about ten minutes, also appealed to vote for JD (S) candidates. He also highlighted his achievements as Chief Minister and his father's achievements as the Prime Minister of India.
Despite the poor show, there were many who were big supporter of Mayawati. Talking to ANI after the rally, a local said the BSP supremo is like a God for Dalits."Mayawati is considered as a Dalit leader across India. So, Mayawati doesn't just have an impact, she is a God for us. We consider her as our sister. She will protect our rights in the parliament," Sreeniwas told ANI.
Voting will be held on May 12 in all 224 constituencies.It is to be noted that the BSP and JD(S) have forged an alliance for the polls and the BSP would be fielding candidates from 20 seats. -- ANI