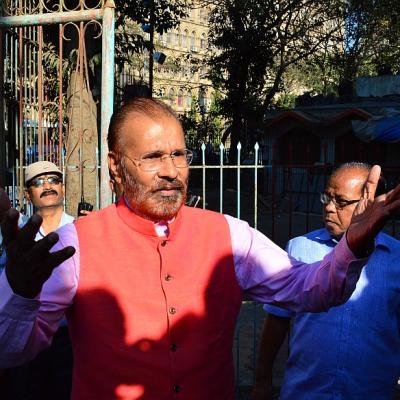 On a day a court in Rajasthan convicted Asaram for raping a teenager girl at his ashram in 2013, former Gujarat IPS officer D G Vanzara, who calls himself a disciple of the self-styled godman, said the victim was 'never raped' and the entire case was of 'inappropriate touching' at the most.
Vanzara also said that attempts are on to sully the image of 'saints' like Asaram through such cases, which he said is 'not in the interest of the country, Hindus or Sanatan religion'.
A Jodhpur court today sentenced the self-styled godman to life in prison after finding him guilty of raping a teenage girl in his ashram in Manai area near Jodhpur five years ago.
While talking to reporters outside Asaram's ashram in Motera area in Ahmedabad, Vanzara said the entire case was aimed at tarnishing the image of seers like Asaram.
"If you see the FIR as well as the chargesheet (of the case), you will not find any mention of rape. Even during the trial, the victim never alleged that she was raped by Asaram. As per the FIR, she was only touched inappropriately. Even medical tests of the victim confirmed that her virginity was intact," claimed Vanzara.
Taking objection to Asaram being labelled as 'rapist' by media, Vanzara said the case against the godman pertains only to section 354 of the Indian Penal Code, which deals with 'Outraging modesty of a woman', and not about rape.
"I want to tell the countrymen that the case was not about rape at all. I am sure that Asaram will be freed of all charges by high court once he approaches it," he said.
Vanzara said attempts are being made to 'malign the image of saints' like Asaram, who he said was 'not facing the charge of rape'.
"This situation, wherein attempts are being made to malign the image of saints like Asaram Bapu through such cases, is not in the interest of the country, or Hindus or the Sanatan religion," he said.
Vanzara was made an accused by the CBI in the alleged fake encounter cases of Soharabuddin Sheikh, Tulsi Prajapati and Ishrat Jahan.
Jahan, Sheikh, and Prajapati were allegedly killed in an extra-judicial manner separately by Gujarat police in 2004, 2005, and 2006, respectively.
While Vanzara was discharged from the encounter cases of Sheikh and Prajapati, he is facing charges in the Ishrat Jahan case.
Vanzara remained behind bars for almost eight years after he was arrested by the Gujarat CID in 2007. He was released on bail in February 2015, a year after he retired from the service while being in jail. --
PTI