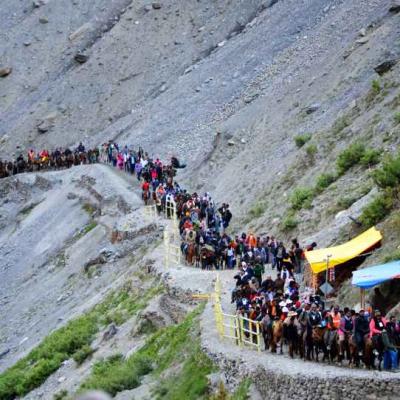 The Supreme Court today set aside a National Green Tribunal order that had created a controversy by putting restrictions on devotees asking them to maintain silence while standing in front of the 'Maha Shivalinga', a natural formation inside the Amarnath cave in South Kashmir Himalayas.
The top court said that the December 14 last year's order should not have been passed by the NGT on a petition which did not concern the Amarnath cave shrine.
Observing that due procedure needed to be followed, a bench of Justices M B Lokur and Deepak Gupta asked petitioner Gauri Mulekhi to file an appropriate petition with regard to the pollution at the Amarnath cave.
The 'shivalinga' is a stalagmite formed by freezing of water drops falling from the roof of the cave and growing up vertically from the cave floor.
During the hearing, senior advocate Mukul Rohatgi, appearing for the Amarnath Shrine Board, said the tribunal had "jumped the gun" and imposed certain restrictions on chanting of religious hymns, carrying of devotional offerings (prasad) and use of mules to ferry devotees.
The bench asked an official of the Board why the devotees who cannot walk the distance to the cave, not be dropped by helicopters.
The official said about 1000 people could be dropped by helicopters at a distance of four kilometres from the cave, but they have to walk the remaining part.
-- PTI