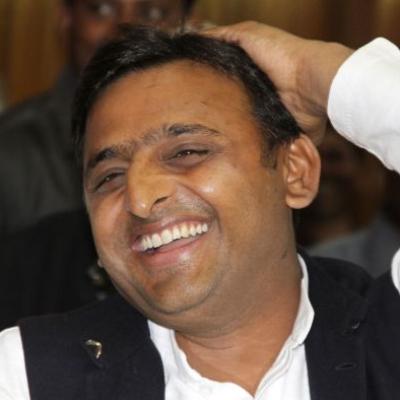 Samajwadi Party chief Akhilesh Yadav was the cynosure of all eyes in Central Hall of Parliament on Wednesday.
The ex-CM of Uttar Pradesh, who in interviews to
Rediff.com
(
here
, and
here
) has said that Modi Sarkar's days are clearly numbered, met leaders from across the political spectrum, including Sharad Pawar (NCP), Murli Manohar Joshi and Bhupender Yadav (BJP), Ahmed Patel (Congress), Satish Chandra Mishra (BSP), Jaya Bachchan (SP), and Dr V Maitreyan (AIADMK).
If Akhilesh was surprised to see young MPs take selfies with him, he didn't show it.
Other opposition leaders who had made a beeline to Central Hall are Mamata Banerjee of the Trinamool Congress and Telugu Desam Party's Chandrababu Naidu, leading some Congress MPs to quip that while marriages maybe made in heaven, political alliances are made in Central Hall.