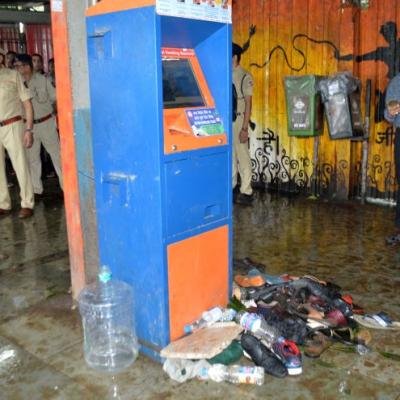 The ruling Bharatiya Janat Party's ally Shiv Sena today dubbed the stampede on a foot overbridge at Elphinstone Road railway station a "massacre", while opposition parties also hit out at the Central and Maharashtra governments over the tragedy.
The non-BJP parties said instead of pursuing Prime Minister Narendra Modi's pet bullet train project, the Centre should focus on improving safety of passengers and amenities at stations.
"This incident is a public massacre for which the government and railways are responsible. We have time and again demanded that the old and dilapidated foot overbridges be redeveloped but no action has been taken yet," Sena MP Sanjay Raut told PTI.
"While the government has no time to rectify the shortcomings in the present rail system, it wants to bring in bullet trains," he added.
The Uddhav Thackeray-led outfit is part of the BJP-led governments both at the Centre and in Maharashtra, but has been bitterly critical of them on a variety of issues.
Terming the loss of lives in the stampede as unfortunate, Maharashtra Congress chief Ashok Chavan demanded a judicial probe into the incident.
Leader of Opposition in the Legislative Assembly Radhakrishna Vikhe-Patil of the Congress said he had written to the railway ministry last year seeking a meeting of public representatives with the railway minister to solve the issue of overcrowding at stations in Mumbai.
"This incident should be treated as a case of murder. An FIR under IPC section 302 (murder) should be lodged against railway officials," the senior Congress leader said.
"Had the administration worked towards providing basic facilities to commuters, instead of renaming the railway station (Elphinstone) as Prabhadevi, so many lives would not have been lost," Vikhe-Patil added.
Leader of Opposition in the Legislative Council Dhananjay Munde said the government, instead of bringing in bullet trains at this stage, should focus on developing stations and
improving passenger safety.
"The Maharashtra government will give Rs 5,000 crore for the bullet train project. Instead, this money should be immediately provided for the development of railway stations in Mumbai," the NCP leader said.