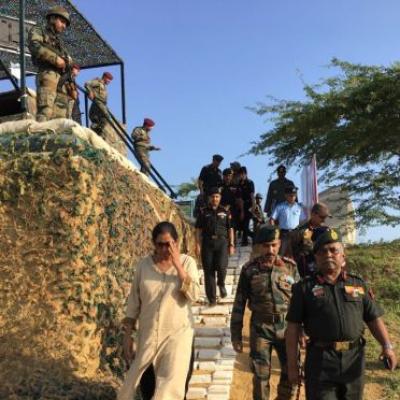 The top priority for Defence Minister Nirmala Sitharaman this week is a meeting with US defence secretary Jim Mattis in New Delhi. This is the first Cabinet-level official's visit to India under the Trump administration. Mattis, is is believed, will emphasise that the United States views India as a valued and influential partner with broad mutual interests extending well beyond South Asia.
Sitharaman has been briefed on the situation at India's borders with seven visits to forward areas in six states. She has also been taking stock of border security from the three chiefs of staff. During such meetings, the preparedness for any eventualities are also discussed.
The Defence Minister has initiated these interactions on instructions from the Prime Minister.
The Chief of Army Staff has also reportedly taken the defence minister to the top secret location where the 'nuclear button'. in a manner of speaking, is kept. The location is also known to the Prime Minister.
Since assuming office, Sitharaman has been spending five hours every day on briefings and at least eight to 10 hours on studying defence-related documents.
Up ahead, probably before Dussehra, is an exam. The defence minister will be briefing the PM on China.