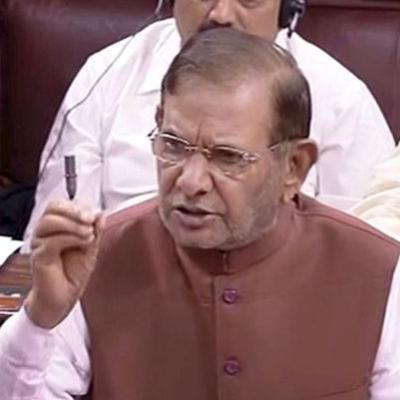 With Sharad Yadav finding himself on the wrong side of Nitish Kumar's alliance with the BJP, his seat in the Rajya Sabha has been pushed back from the first row to the eighth.
The pride of place held by him, facing the chairman's podium along with BSP and SP leaders, has now been given to Ram Chandra Prasad Singh who has been nominated as the leader of the 10-member Janata Dal-United in the Rajya Sabha.
The new seating will be effective from the winter session of Parliament, most likely to commence in the third week of November.
Veteran Sharad Yadav, who after falling out with Nitish Kumar has been badmouthing the JD-U, is slowly emerging as one of the Opposition faces for the 2019 Lok Sabha polls.
As he is expected to continue his tirade against the JD-U, the winter session will see fireworks, what with Nitish Kumar building up a case for his disqualification from the House of Elders.