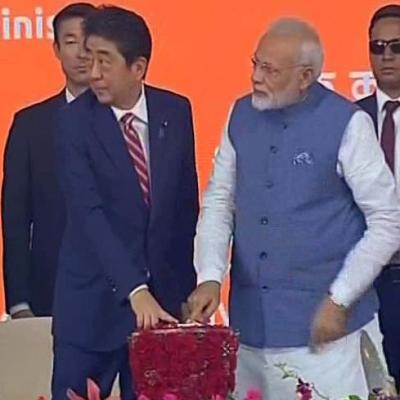 Prime Minister Narendra Modi will be joined by Japanese Prime Minister Shinzo Abe when they launch the ambitious Ahmedabad-Mumbai high speed bullet train project in a few moments from now.
The two leaders are at the venue where the bhoomi pujan will be conducted will lay the foundation stone of the project which is expected to be completed by 2022 at an estimated cost of Rs 1.10 lakh crore.
The train would cover the distance of over 500 km in around two hours. Japan has extended a soft loan for the ambitious project conceptualised by PM Modi.
Railway minister Piyush Goyal and Maharashtra CM Devendra Fadnavis at the venue. Fadnavis says he is proud that India's first bullet train will connect Mumbai with Ahmedabad.
Image: PM Modi and Japanese PM Shinzo Abe launch the Bullet Train project.