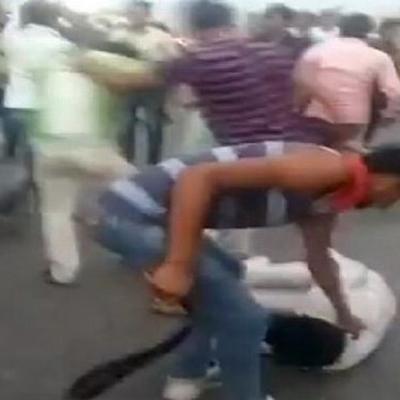 The Rajasthan Police have closed investigations into six people named by dairy farmer Pehlu Khan before his death in a mob attack in April, Hindustan Times reports.
The police have cleared the six men -- three of whom are linked to Hindu right-wing organisations -- based on the statements by the staff of a cow shelter as well as mobile phone records, according to the investigation report that Hindustan Times has read.
The staff of the cow shelter, Rath Gaushala, has maintained that the six -- Om Yadav (45), Hukum Chand Yadav (44), Sudhir Yadav (45), Jagmal Yadav (73), Naveen Sharma (48) and Rahul Saini (24) '" were present on their premises, which was about four-km from the attack site. Rath Gaushala is patronised by Jagmal Yadav.
Read the full report
here.
Image: A mobile phone grab of dairy farmer Pehlu Khan being beaten by gau rakshaks. He died in hospital as a result of his injuries.