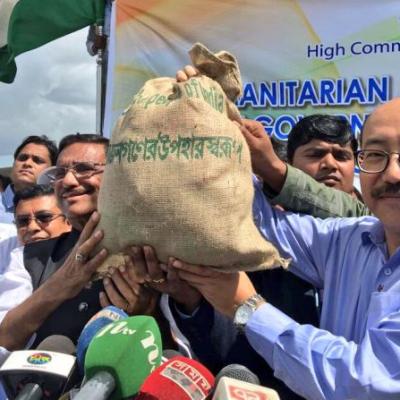 An Indian Air Force plane carrying the consignment of Op Insaniyat, humanitarian assistance to Bangladesh, reached Chittagong today. The consignment is relief assistance for the lakhs of Rohingya refugees who have fled the violence in Myanmar's Rakhine province for Bangladesh.
"In response to the humanitarian crisis being faced on account of the large influx of refugees into Bangladesh, government of India has decided to extend assistance to Bangladesh,' the Ministry of External Affairs (MEA) said in a press release, announcing the commencement of Operation Insaniyat.
The relief material consists of rice, pulses, sugar, salt, cooking oil, tea, ready-to-eat noodles, biscuits and mosquito nets, among other things.The Indian high commissioner to Bangladesh Harsh Shringla is in Chittagong to meet the relief flight.
"India has always responded readily and swiftly to any crisis in Bangladesh, in keeping with the close ties of friendship between the people of India and Bangladesh. India stands ready to provide any assistance required by the government of Bangladesh in this hour of need,' the MEA said in the press release.
Image: Food aid from India, marked 'Janaganer Uphaar Swaroop' (Gift from the people) reaches Bangladesh.