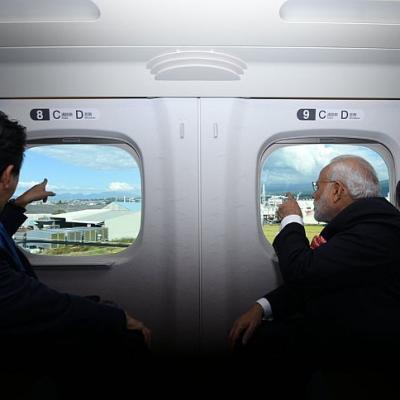 The Congress on Thursday slammed Prime Minister Narendra Modi over the launch of the bullet train, saying that the latter is getting involved more in photo opportunities and is getting carried away from the important issues that need to be discussed with Japan.
Congress leader Anand Sharma told ANI that the strategic partnership between Japan and India is very important, which should not be wasted on a 'misplaced priority'.
"Our prime minister should not limit it to the photo opportunity and theatrics. There are serious issues on the agenda. Prime Minister Modi has misplaced the priority. The bullet train is not India's priority," Sharma said.
He added that several important agreements were signed between India and Japan during the UPA Government, which were of utmost importance and the prime minister should take them forward rather than what he's doing now.
"He is seeking to use this opportunity just to impress Shinzo Abe. This is the time to show result as to where we are," he said.
On the Ahmedabad-Mumbai route, total 12 stations have been proposed that include Mumbai, Thane, Virar, Boisar, Vapi, Bilimora, Surat, Bharuch, Vadodara, Anand, Ahmedabad and Sabarmati.
The distance of 508 km will be covered in two hours and seven minutes by the bullet train if it stops at four stations namely Ahmedabad, Vadodara, Surat and Mumbai.According to the railway ministry officials, the operating speed of the bullet train will be 320 kilometers per hour and the maximum speed will be 350 kilometers per hour. --
ANI