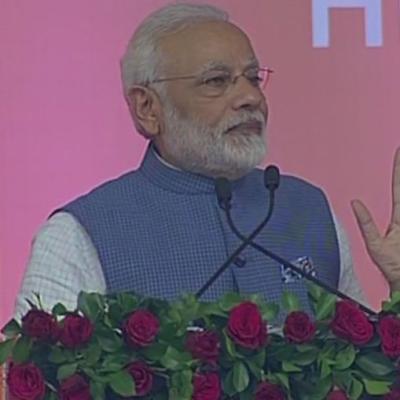 Prime Minister Modi, along with visiting Japanese PM Shinzo Abe, launched work on India's first bullet train at Ahmedabad this morning.
Calling Japan a 'true friend', PM Modi told the cheering crowd of nearly 10,000, that the "bullet train will bring both speed and jobs to the country".
PM Modi speaking at the bullet train launch
Highlights of his speech:
"I want to congratulate you, the way you welcomed a world leader, Japan PM, our friend, my personal friend yesterday.
"The transport system is of prime importance for a nation's development. I thank my friend Shinzo Abe; he took personal interest and assured that there should be no glitches in the project.
"Now next generation growth will happen at places where there are high speed corridors. If one says take a loan and return it in 50 years, is it believable? But Japan is such a friend. The Bullet Train is Japan's gift to India. They gave us a loan of Rs 88,000 cr at 0.1% interest.
"The Bullet train will bring you from Aapnu Amdavad to Amchi Mumbai. The area between Ahmedabad and Mumbai will become single economic zone."