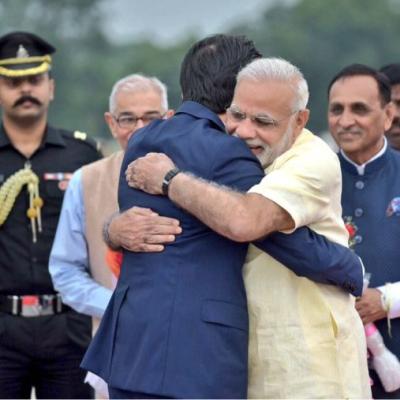 PM Narendra Modi receives Japanese PM Shinzo Abe at the Ahmedabad airport with bear hugs and a hearty handshake.
The skies are overcast in Ahmedabad, even as a massive road show is set to begin.
The PM greeted Akie Abe, the Japanese PM's wife, and led Abe to the podium where he will receive the guard of honour.
They will visit Sabarmati Ashram and the iconic Sidi Saiyyed Mosque in the eastern part of the city famous for its intricate stone lattice work.
Modi will host a dinner for Abe at a hotel in the old city area.
Ahmedabad has been recently included in the World Heritage City list. Japanese PM will be given an overview of the heritage of the city in prime minister Modi's home state.