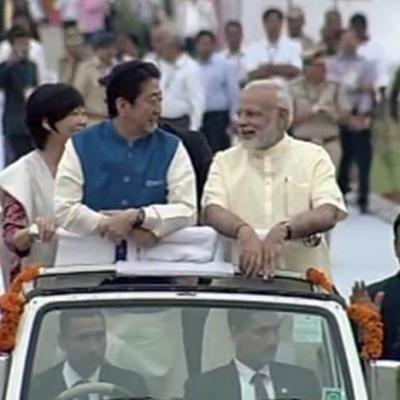 Prime Minister Narendra Modi and his Japanese counterpart Shinzo Abe begin their roadshow in Ahmedabad.
The 8-km-long road show starts from the Ahmedabad airport and will culminate at the Sabarmati Ashram.
Ahmedabad Municipal Corporation's standing committee chairman Pravin Patel said a large number of people, including singing troupes will be performing at 28 different locations along the route.
After visiting the Sabarmati Ashram, where Mahatma Gandhi lived between 1917 and 1930, both the leaders would take a break till evening.
They will then bvisit the iconic Sidi Saiyyed Mosque in the eastern part of the city. The mosque is known across the world for the stone lattice work.
Modi and Abe would then have dinner at 'Agashiye' restaurant located near the mosque.