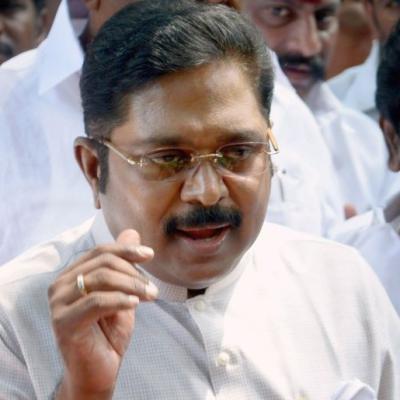 All India Anna Dravida Munnetra Kazhagam leader T T V Dinakaran today alleged that the ruling faction led by K Palaniswami was threatening to file false cases against his loyalists MLAs, who are camping in Karnataka, if they did not support the chief minister.
The beleaguered leader, whose appointment as the AIADMK's deputy general secretary was declared invalid at the party's general council meeting yesterday, alleged the TN government sent policemen to Karnataka who 'threatened to file false cases against our MLAs'.
Since September 10, a majority of Dinakaran's loyalist MLAs are putting up in a resort in Karnataka's Coorg district. Dinakaran has the support of 21 MLAs.
"They (MLAs) are being intimidated by sending police personnel... They are being asked to support Chief Minister Palaniswami," he alleged.
Dinakaran said the MLAs told him that 30 Tamil Nadu police personnel, led by five DSPs, visited their resort yesterday.
Policemen were there today as well, he said.
Dinakaran also alleged that the ruling camp was 'nudging' his loyalist legislators, through police, to support the Palaniswami government by offering monetary inducements.
The MLAs would file a complaint with the Karnataka Police in connection with the matter and 'we will move court seeking action against (Tamil Nadu) police and the chief minister', he said.
Meanwhile, former minister and Dinakaran loyalist MLA V Senthil Balaji told reporters in Coorg that Tamil Nadu police personnel came to his room in the resort and asked him 'to talk to the chief minister'.
He alleged they told him that if he did not do so, a case would be slapped against him and he would be arrested.
Balaji alleged he was offered monetary inducement to switch over to the Palaniswami camp.
Dinkaran said former minister and his supporter P Palaniappan has left Karnataka to reach Tamil Nadu.
The MLA is facing a case for allegedly abetting the suicide of a contractor.
"I have got information that Palanipappan has approached court," he said and asked the media to not 'speculate' that the MLA was to be arrested.
"Disseminate the truth," he said. --
PTI