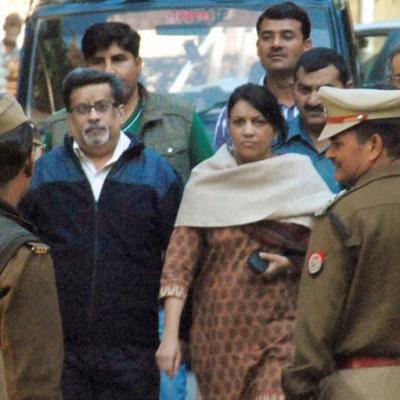 The Allahabad high court is likely to pronounce its judgment today in the murder case of 14-year-old Aarushi Talwar in Noida, four years after her parents were convicted for the sensational killing that shook the country.
A high court bench comprising justice BK Narayana and justice AK Mishra reserved its verdict in September in the appeal filed by Aarushi's parents, Rajesh and Nupur, who were sentenced to life in jail by a CBI court in Ghaziabad.
They were convicted for the double murder of Aarushi and their house help, Hemraj.
On May 16, 2008, Aarushi was found murdered inside her bedroom in the Talwar's flat in Noida's posh Jal Vayu Vihar her throat slit with surgical precision. The police initially suspected the missing house help from Nepal, Hemraj, but his decomposed body was found a day later from inside a locked room in the terrace of the building.
The police then began to suspect the Talwars and said Rajesh, the father, had murdered the two after finding them in an "objectionable" position. The accusations enraged the Talwars and friends, who accused the police of framing the dentist couple in order to cover up a botched investigation.
The probe into the case hogged headlines for months, and sparked numerous conspiracy theories, a widely read book and a Bollywood film. Many accused the police of tampering with key pieces of evidence and bungling the probe.