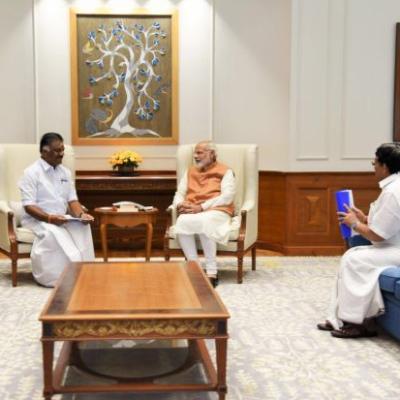 Tamil Nadu Deputy Chief Minister O Panneerselvam met Prime Minister Narendra Modi today. OPS wants Cabinet berths for the AIADMK as it is ready to align with the BJP and join the NDA.
Narendra Modi is said to have told Pannerselvam that a decision to the effect will be taken at the BJP's the Parliamentary Board meeting.
The BJP also insists that the AIADMK should pass a resolution of its desire to join the NDA. That's yet another party aligning with the BJP.
In Maharashtra, Narayan Rane resigned from the Congress and joined the NDA. In West Bengal, Trinamool Congress senior leader Mukul Roy resigned from the party and is floating a regional party which is expected to join the NDA.
More seats for the NDA in the 2019 Lok Sabha polls?
Image: OPS and AIADMK MP Dr V Maitreyan with the PM