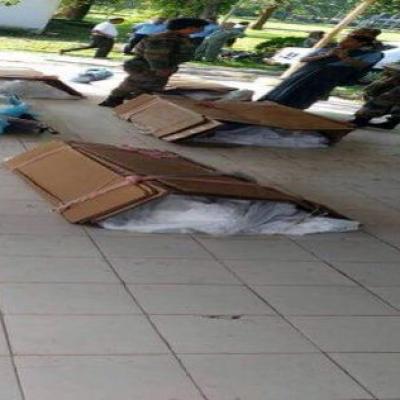 The Army has sought early handing over of 900 body bags and 150 caskets procured in 1999 lying in a warehouse for the past 17 years after allegations of kickbacks in the $4 lakh deal and subsequent Central Bureau of Investigation probe into it.
The Army's renewed pitch for getting custody of the body bags and caskets comes at a time when images of bodies of seven military personnel wrapped in plastic sacks and tied up in cardboard triggered outrage last week.
The military personnel were killed in an Mi-17 helicopter crash in Tawang on Friday.
Official sources said the Army has requested the CBI again to facilitate the handing over of the body bags and caskets as the probe into their procurement was over and the case was closed in 2013.
When contacted, CBI sources said they are looking into the matter.
In the aftermath of the Kargil war, the then National Democratic Alliance government had ordered procurement of 3,000 body bags and 500 aluminium caskets.
However, following allegations of kickbacks in the contract, the deal was cancelled but the company which was given the contract had supplied 900 body bags and 150 caskets by then.
The CBI had carried out probe into the allegations.
A Delhi court in 2013 had discharged three former Army officials who were chargesheeted by the CBI.
A senior Army official said CBI had found that a typographical error at a clerical level triggered these allegations.
He said the actual weight of each casket should have been mentioned as 55 kg but instead, it was written 18 kg.
The official sources said, however, an observation by a government auditor favouring scrutiny of the pricing of the body bags and caskets held back their release.
They said a city court had issued directions for release of the caskets and body bags.
They said the United States government had also bought body bags and caskets from the same company at almost the same period when India had finalised the deal and the auditor suggested to find out the rates at which the American government had procured them.
The images of bodies of the seven military personnel wrapped in plastic sacks had triggering outrage prompting the Army to call it an 'aberration'.
Former Northern Army commander Lt Gen H S Panag (Retd) had said proper military body bags must be used to transport bodies from forward locations until ceremonial coffins were available. --
PTI
IMAGE: Bodies of IAF officials arrive in makeshift cartons from Tawang. Photograph: Kind courtesy @RWAC48/Twitter