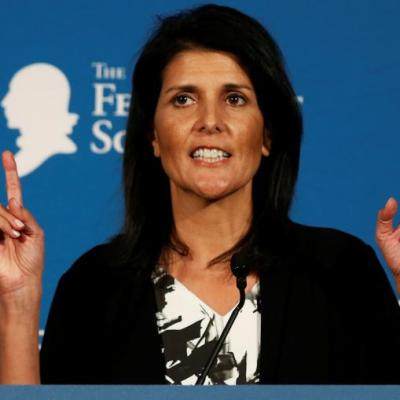 Hours after the United States announced its decision to pull out from the UNESCO, America's Permanent Representative to the United Natinos issued a stern warning to other UN agencies that they will be evaluated through the same lens.
US taxpayers should 'no longer be on the hook to pay for policies that are hostile to our values and make a mockery of justice and common sense', US Ambassador Nikki Haley said in a statement.
Her remarks came hours after the State Department announced that the US will withdraw from the UNESCO, accusing the UN cultural body of 'anti-Israel' bias.
"In July, when UNESCO made its latest outrageous and politically based decision, designating the Old City of Hebron and the Tomb of the Patriarchs as part of Palestinian territory, the US clearly stated that this decision would negatively affect its evaluation of the level of engagement with the organisation," she said.
"The US will continue to evaluate all agencies within the United Nations system through the same lens," Haley said.
"The purpose of UNESCO is a good one. Unfortunately, its extreme politicisation has become a chronic embarrassment."
The Tomb of the Patriarchs decision was just the latest 'in a long line of foolish actions', which includes keeping Syrian dictator Bashar al-Assad on a UNESCO human rights committee even after his murderous crackdown on peaceful protestors, Haley asserted. --
PTI