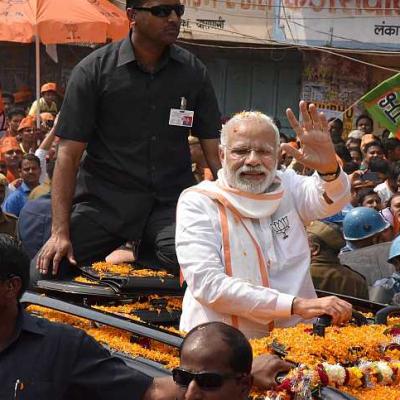 Prime Minister Narendra Modi will be in Gujarat from today on a two-day visit during which he will lay foundation stones and inaugurate a number of projects.
He will also visit Vadnagar, his birth place, for the first time since becoming the prime minister in 2014.
The trip will begin with a visit to the famous Dwarkadheesh temple from morning.
Recently, Congress vice president Rahul Gandhi had also offered prayers at the Dwarka temple before starting his campaign for Gujarat polls to be held at the end of the year.
At Dwarka, Modi will lay the foundation stone for four-lane cable stayed signature bridge between Okha and Beyt Dwarka to be built at a cost of Rs 962.42 crore.
Other projects for which foundation stone will be laid include four-laning of 116.24 kms of Porbandar-Dwarka section of NH-51 and four-laning of 93.56 km of Gadu-Porbandar section of NH-51.
He will also address a public meeting there.
From Dwarka, the prime minister will go to Hirasar in Rajkot district where he will lay foundation stone for a greenfield airport, 20 kms from Rajkot city.
He will also lay foundation stone in Chotila for six-laning of 201-km Ahmedabad-Rajkot section of NH-47 at a cost of Rs 2,893 crore.
He will also dedicate a fully automatic milk processing and packaging plant and a drinking water distribution pipeline for Joravarnagar and Ratanpur area of Surendranagar, a PMO statement said in Delhi.
He will address a public meeting there too.
Modi will then proceed to Gandhinagar where he will dedicate the newly-constructed building of IIT Gandhinagar, and launch the Pradhan Mantri Gramin Digital Saksharta Abhiyan..
PMGDISHA is aimed at imparting digital literacy to citizens in rural areas, the PMO said, adding it will provide access to information, knowledge, education, and healthcare.
On Sunday morning, he will visit Vadnagar, his birthplace in Mehasana district where he grew up. -- PTI