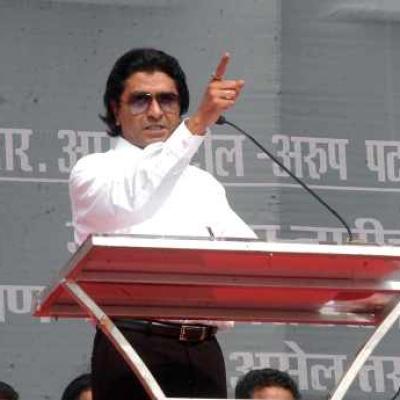 Mumbaikars are likely to face massive traffic jams near Churchgate railway station today as Maharashtra Navnirman Sena chief Raj Thackeray will lead a rally from Metro theatre to Churchgate to protest against the poor quality of railway infrastructure, days after a stampede at the Elphinstone Road railway station.
In a horrific incident, 23 people were killed, and 38 were injured in a stampede on a bridge at Elphinstone station on Friday last week.
Thackeray has said that he will himself participate in the rally in front of Western Railway headquarters in Churchgate.
MNS workers had travelled in local trains, asking people to participate in the rally.
On Saturday, Thackeray spoke against the bullet train project. "While people are struggling to survive in the cities, Modi is asking them to do yoga and campaign for Swachh Bharat. We will launch a 'no bullet train campaign'," he had said.
Thackeray had also alleged that Suresh Prabhu was replaced by Piyush Goyal as railway minister only to push through the bullet train project. "This Goyal is useless, Prabhu was good...Does one need bullet train or improvement of basic rail infrastructure?" he had said.
He had also called Modi a "liar".
"We have never seen a PM who is such a big liar. He made big promises and then dismissed them as 'election jumlas'. How much can a person lie in this fashion?" he had said.