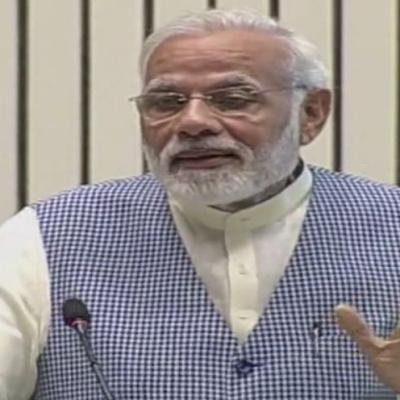 Prime Minister Narendra Modi addresses company secretaries at inauguration of Golden Jubilee Year of ICSI in Delhi:
- After Demonetisation the cash to Gross Domestic Product ratio has come down to nine per cent, before November 8, 2016 it was 12 per cent.
- During six years of the previous government there were eight instances when GDP was at or below 5.7 per cent.
- There are some people who sleep well only after they spread a feeling of pessimism all around. We need to recognise such people.
- At a time India was made member of a group in context of international economy, it was fragile 5. How did it happen when big economists were there?
- The Reserve Bank of India has predicted 7.7 per cent growth in the coming quarters.
- After achieving average growth of 7.5 per cent over three years, we accept that growth rates came down April-June but the government is committed to reverse it.
- I have told the GST council to review the problems being faced by traders and we are willing to make changes as per the suggestions.
- I assure that the steps being taken by the government will put the country in a new league of development.
- There has been an increase in auto sales, air traffic, air freight & telephone subscribers. --
ANI