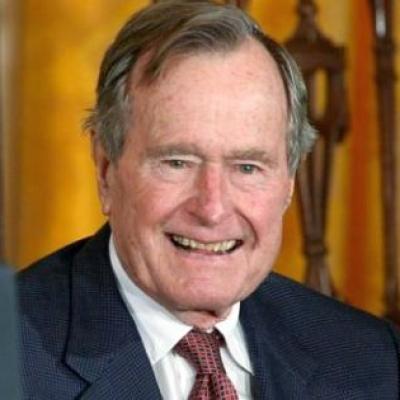 Another woman has come forward to accuse former United States president George HW Bush of inappropriately touching her.
Roslyn Corrigan, in an interview, said that Bush touched her buttocks when she was 16, during an event in 2003 at a Texas office of the Central Intelligence Agency, reported the Independent.
Corrigan is the sixth woman to accuse the 41st US president of touching them during photo calls.
Corrigan said she was confused and in absolute horror when the incident took place and did not say anything to Bush.
"What does a teenager say to the ex-president of the United States? Like, 'Hey dude, you shouldn't have touched me like that'?" she asked.
Actresses Heather Lind and Jordana Grolnick, author Christina Baker Kline, journalist Liz Allen and former politician Amanda Staples have all accused Bush of similar incidents.
-- ANI