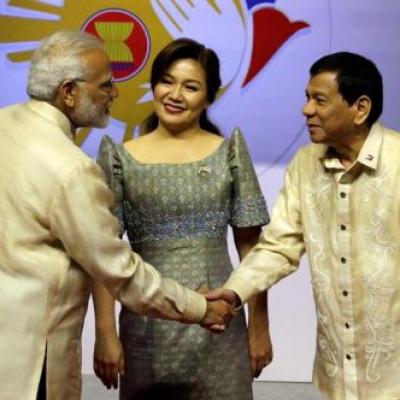 The ministry of external affairs announced that Philippines President Rodrigo Duterte has accepted Prime Minister Narendra Modis invitation to visit India for the 2018 ASEAN-India commemorative summit, along with other leaders of the ASEAN.
Secretary (East) of the MEA, Preeti Saran, said the invitation to Duterte was extended by Modi during the bilateral discussions.
The two sides sealed four agreements and agreed to cooperate on counter-terror. Both countries have been victims of terrorism for long.
It is the first prime ministerial visit in thirty-six years from India to Philippines. Both sides sealed agreements on defence and logistical cooperation, small and medium scale enterprise, and for collaboration between the Indian Council of World Affairs and the Foreign Service Institute of Philippines, said Saran.
The PM took the opportunity to invite President Duterte for the (2018) commemorative summit that will be held next year which President Duterte gladly accepted, as have other ASEAN leaders, she added.
Image: Philippines President Rodrigo Duterte welcomes Prime Minister Narendra Modi before the start of the Special Gala Celebration of the 50th Anniversary of ASEAN in Manila, Philippines. Photograph: Aaron Favila/Pool/Reuters