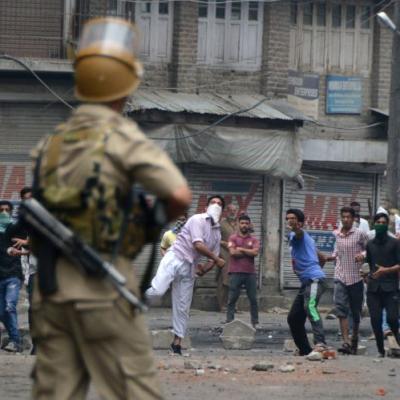 Top Congress leaders today said the initiatives taken in Kashmir during the United Progressive Alliance's 10 year-rule have been reversed, as they discussed the prevailing situation in the valley at a key meeting chaired by former prime minister Manmohan Singh.
The party leadership also felt that there is a sense of alienation at all levels in the state that requires the urgent attention of the government.
The views were expressed by members of the Congress policy planning group constituted by party chief Sonia Gandhi, at its first meeting held at the residence of Singh who chairs the group.
Barring former home minister P Chidambaram, eight of the nine members of the key strategy group attended the meeting and expressed their views frankly.
The meeting assumes significance in view of the prolonged unrest in the Kashmir Valley, since the killing of terrorist Burhan Wani in an encounter last July.
Sources said all the members were concerned over the "reversal" of the key initiatives and work done during the 10 years of the Congress-led UPA government when they claimed, peace had returned to the state and its people were assimilating across the country.
Senior member of the committee Ambika Soni said all the members expressed their views "freely and frankly" over the situation in Kashmir.
"The leaders expressed deep concern over the situation in the valley," she said after the meeting.
All the leaders said that the various initiatives taken by the UPA government and Congress leadership have been "reversed" and washed away and the situation in the state has turned "serious".
Former J&K chief minister and senior party leader Ghulam Nabi Azad also expressed serious concern over the prevailing situation in the state and the increased sense of alienation there.