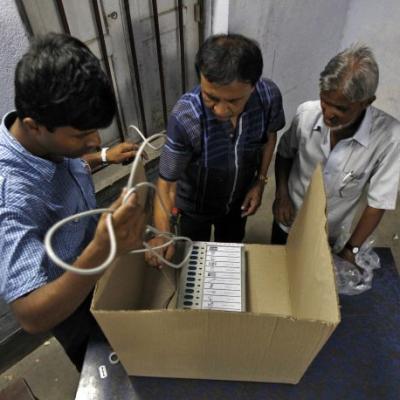 The Election Commission of India will demonstrate working of electronic voting machines and voter verifiable paper audit trail system and hold a press conference in New Delhi at Vigyan Bhavan, today.
Yesterday, The Bharatiya Janata Party said that the live demo of EVMs and VVPATs by the ECI will ensure credibility and the authenticity of the voting machine will be retained.
"It is Election Commission's duty to convince every citizens and every political party about the credibility of the EVM. It is between the election commission and the parties who are crying foul needlessly. I am sure that the Election Commission will ensure credibility and the authenticity of the EVMs will be retained," BJP leader S Prakash told ANI.
He said that certain parties were creating huge ruckus against EVM hacking to cover up their own lapses in winning over the mandate of the people and the Election Commission's demo will remove their doubt.
While earlier in the week, the poll panel had said it would offer an 'opportunity' to the political parties to prove that EVMs used in the recently held assembly polls were tampered with or can be tampered even with laid down safeguards.
The ECI also convened an all-party meeting over the issue of EVM and other electoral reforms. In its communication to the presidents of all the seven national and 48 state political parties, the poll panel sent a status paper on EVMs and VVPAT. -- ANI