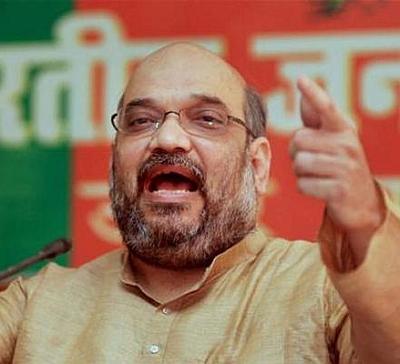 Bharatiya Janata Party national president Amit Shah on Saturday said the 'Kashmir problem' emerged because of the Congress, expressing confidence that Narendra Modi-led National Democratic Alliance government
will soon control the present situation in the Valley.
"What else the Congress can say. Kashmir problem emerged because of the Congress," Shah said while addressing media in Chandigarh.
He was asked to respond to the Congress allegations, which had reportedly accused NDA government of failing to control the situation in Kashmir.
Concerned over the "disturbed" situation in the Valley, the Congress had formulated a policy-planning group for Jammu and Kashmir on April 19, to take forward the peace initiative in the state.
The policy-planning group is chaired by former Prime Minister Manmohan Singh and includes former Home Minister P Chidambaram and CWC members Karan Singh and Ghulam Nabi Azad, besides the J-K Congress in charge Ambika Soni.
The Congress has been critical of the Centre as well as the PDP-BJP coalition government over the handling of the situation in J-K since July last year.
When asked about Kashmiri students indulging in stone pelting at the security personnel, Shah said such situations had emerged in the past as well.
"Kashmir faced such situations several times since 1989 (since onset of militancy in the state). It is not for the first time that such a situation had erupted and these situations were controlled. Whenever security agencies adopted a tough stand, such situations arose. I am confident that this situation will soon be controlled," he said.